Maintaining the devices that your company provides for testing mobile applications is mandatory for the success of your mobile development projects. It is as important as the human resources of the company. Since modern emulation tools and cloud services don't assure high quality of mobile applications, all portable devices such as smartphones and tablets should be maintained properly. This article explains how you can extend their lifespan.
Author: Nadia Knysh, A1QA, http://www.a1qa.com/
There is a specific approach of completing the mobile park and its maintenance. One of the key factors is the proper usage of gadgets. This article provides some simple tips that will help your company to optimize testing on different devices, save your time and expenditure on these pricey resources.

Common Rules of Keeping Your Mobile Park
The majority of QA managers are dreaming to have a unique mobile park for every project. However, they realize how expensive it is, so just a few companies can afford it. This is why most companies will keep only one mobile park for all departments and all projects. If it consists of up to a dozen devices, you don't really need a strict control of who and where uses them. But if you have a greater number of mobile devices, you should have detailed regulations about borrowing and returning them back.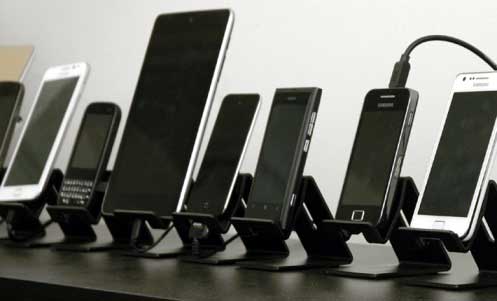 We recommend starting with sharing a document the rules for your mobile park usage. Once a tester accepts the rules, he or she is allowed to take the devices. The document should define the rules for usage mobile testing devices, usage time limits, and penalties for breaking the rules. It's a good idea to set the access priority for different testers. Don't forget also to prohibit taking devices out the office.
It would be just perfect if all devices could be kept secured. If you trust all your colleagues, you can avoid these costs and equip a stillage for devices. In addition, you can also order a special stand for every device, which also enables charging them.
What else can you do to provide a safe and convenient storage for mobile testing devices? It is becoming a common practice to keep devices in plastic bags with zippers. Thus you can put some accessories such as USB cables, power adapters and headsets together with the device. Unlike standard paper boxes, plastic bags occupy less space.
When returning the device, the whole set should be checked so that none of the accessories is missing and the device is in its previous condition. When a tester returns a device, its charge level should be at least 80%. If not, a tester should be denied to return the device until it is charged enough.
All devices should have stickers with detailed information about the firmware version and its technical characteristics. The mobile park rules should state that any unauthorized updates and changing firmware versions are strictly prohibited.
The simplest way to watch the current device user is keeping a register of check-ins and check-outs. If you have money and your budget allows that, you can automate the process. To accomplish it you can use such tools as Sharepoint or Google Drive, for example.
How to Properly Use Devices While Testing?
Ideally, any device should keep the same settings during its entire life. This is why we strongly recommend fixing the device settings every time a tester takes it. When he is done with testing, he should restore the device to its previous settings. Resetting the device to factory settings each time would solve that problem, but we find it just as a waste of time.
Any new applications, uploaded files and changed settings might have an impact on the way a tested application performs. Keep in mind that the majority of users are purchasing mobile apps, rather than using Jailbreak or Root. These actions could influence the app performance and some bugs could be missed because of that.
When testing, it is also not recommended to have the phone connected to PC through the USB cable, since working like that adversely affects the device accumulator. Connect the phone to the computer only when you have to install a build, delete logs or upload files. The best way of charging the phone is mere using the standard power charger.
When you are done with testing, restore all the setting to the previous condition. You should delete files you have uploaded and applications you have installed, as we mentioned before. Double check whether the cache is also deleted. Then, clean the display and panels using microfiber or a special cleaning liquid, put all accessories and the device in the plastic bag. If it is charged enough, now you can return the testing set to the mobile park.
Benefits of Regulations

If you follow these simple rules during testing and maintenance, the mobile park of your company will last the way longer and tracking a tester who uses the device at any time would be easier. Managing a well-organized and regulated mobile park is the key to successful and transparent work with mobile devices. It provides also a peaceful atmosphere in the company and the perfect project coverage by all kinds of mobile devices.
About the author
Nadia Knysh is the Head of Agile QA Department in A1QA with 7 years of leadership experience. She is responsible for Agile methodology development within the company. Her solid technical and management background helps her to correctly allocate team's workflow. Nadia is Certified Scrum master and holds Master degree in software engineering and ISTQB certificate.