The software development trend that shifts the target platform from the desktop to web, cloud and mobile applications has fostered the development of load testing services and performance testing tools on the web. It is an obvious option to use web-based load testing tools for applications that can be accessed by web users. This article presents the free offers from commercial web load testing services providers.
We have considered in this article only the tools that provides a load testing service that we define as the ability to simulate the access by multiple users on a defined time period. We will not mention tools that provides just a one-time assessment of your application performance, giving information such as the time needed to reach the server or to load the JavaScript library. We list also only the providers of free long term load testing services and not the vendors that offer only a limited time one time trial account. If you know a tool that is currently missing from this list, please use the contact form to let us know about it and we will update this article.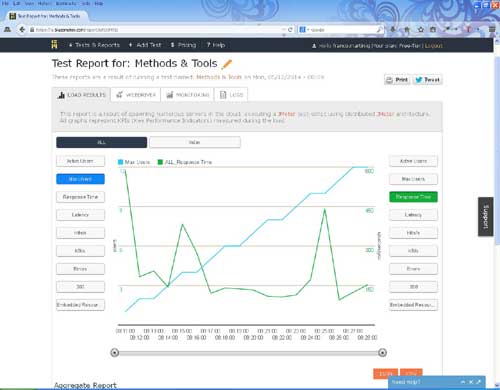 Each free service comes with its limits. In the case of web load testing, they focus on the following criteria: the number of virtual users, the duration of the tests, the number of tests and the ability to test from multiple geographical locations. Some vendors put explicit values on each of these items, but other work with a credit system that you can apply to multiple configurations. In this last case you might be able to choose between a long test with few users or a short test with many users. Some services will also put a limit in the number of days that the test reports will be kept.
Besides these limits, you will choose the free load testing account from the provider that is suited for your technological needs that can stretch from the ease of use if you are just starting your load testing journey or its capability to understand the specificity of your applications.
Updates
Juillet 24 2019: added FrugalTesting, Micro Focus LoadRunner, WebLOAD
updated JAR:Load renamed as JAR:TESTLab, Load Impact (new limits)
removed Blitz, CloudLoad.io, Flood.io, Jellly.io, LoadStorm LITE, Load Focus, Visual Studio Team Services
September 26, 2016: added CloudLoad.io, Visual Studio Team Services, StormForger
November 16, 2015: added Octoperf
October 12, 2015: added StresStimulus
September 2, 2015: added JAR:Load
June 30, 2015: added Load Focus, Jelly.io
March 24, 2015: added Flood.io
January 5, 2015: added LoadStorm LITE
October 20, 2014: added Nuovola
AgileLoad
AgileLoad is an enterprise-class load testing desktop solution. AgileLoad learns complicated transactions by automatically capturing your business processes. You can record and replay rich Internet applications using a variety of Web 2.0 technologies like J2EE, Ajax, Adobe Air-Flex, Silverlight, Sharepoint, JSON, Webservices, SOAP, Apache, IIS, Websphere, Jboss, Oracle, SQLServer, Mysql, DB2, SAPWeb, Siebel, PeopleSoft, Hyperion, Citrix. This allows developing complicated load testing scenarios easily. AgileLoad script storyboard gives you a graphical view of your test scenarios.
Limitations: 10 virtual users
Web site: http://www.agileload.com/
Blazemeter
Blazemeter is at load testing platform that lets developers focus on developing. You can simulate any user scenario for webapps, websites, mobile apps or web services with a tool that 100% compatible with Apache JMeter. You can scale from 100 to 300,000+ concurrent users using realistic visitor behavior and browser simulation.
Limitations: 50 virtual users, 20 minutes test length, shared load servers, no distributed testing from multiple geographic locations (but you can choose one of the 10 worldwide locations)
Web site: https://www.blazemeter.com/
JAR:TESTLab
JAR:Load is a cloud-based load and functional testing service that uses real web browsers to simulate load. AR:Load can be deployed for multiple geolocations at the same time, allowing load to be geographically distributed. The free trial does not expire.
Limitations: 25 concurrent users, 10 minutes maximum test duration
Web site: http://jartestlab.com/
FrugalTesting
FrugalTesting is an online tool compatible with JMeter that provides services related to load testing and performance testing for web and mobile applications. It allows launching thousands of concurrent users from multiple geographical locations with bandwidth simulation too. You can import any JMeter JMX project file in FrugalTesting and export it anytime.
Limitations: 20 Concurrent Users, 10 Minutes Test, 5 Tests can be executed
Web site: http://www.frugaltesting.com/
LoadBooster
LoadBooster offers the unique load/stress testing service that provides large testing capacity, real browser user experience, better AJAX/Web 2.0 application support, clearer error reporting, as well as high-fidelity test results.
Limitations: registration provides 5 credits/month.. With one credit you can test with during 10 minutes and 50 browsers.
Web site: https://www.loadbooster.com
Loader.io
Loader.io is a free load testing service that allows you to stress test your web-apps/APIs with thousands of concurrent connections.
Limitations: one host name, 1 minutes test length, 2 url per test, no concurrent tests
Web site: https://loader.io/
Load Focus
Load Focus is an online cloud-based service that allows loading test and monitor your web sites. LoadFocus runs in the browser and allows to realistic scale load tests up to 100,000 clients per test from multiple regions around the world. You can choose between different test scenarios for a better simulation of the users accessing your application. Tests can be scheduled to run automatically at specific intervals of time.
Limitation: 10 tests a month, 120 clients / test, 2 maximum concurrent clients, 1 location
Web site: https://loadfocus.com/
Load Impact
Load Impact is an online solution that provides simple yet realistic load testing. It simulates traffic exactly how it would happen in real life and can generate load from up to 10 different locations simultaneously.
Limitation : 50 free tests, 50 virtual users, 10 minutes test length, 7 days data retention
Web site: http://loadimpact.com/
LoadRunner
LoadRunner is a software testing tool from Micro Focus. It is used to test applications, measuring system behavior and performance under load. LoadRunner can simulate thousands of users concurrently using application software, recording and later analyzing the performance of key components of the application. LoadRunner simulates user activity by generating messages between application components or by simulating interactions with the user interface such as keypresses or mouse movements. The messages and interactions to be generated are stored in scripts. LoadRunner can generate the scripts by recording them, such as logging HTTP requests between a client web browser and an application's web serve. LoadRunner allows integrating load testing into your development tools: IDE, jUnit, nUnit, Jenkins, Selenium and Microsoft Visual Studio. Starting with version 12.55, you can run your JMeter scripts and integrate JMeter with additional script types in any performance test.
Limitations: 50 virtual users
Web site: https://www.microfocus.com/en-us/products/loadrunner-load-testing/overview
Nouvola
Nouvola goes beyond web load testing to detect performance issues and correct potential failures. The stress testing solution features quick and easy configuration; virtual user generation; traffic pattern detection – stable and linear ramp; traffic models representing multiple user behaviors.
Limitations: 600 virtual user minutes per month.
Web site: http://www.nouvola.com/
Octoperf
OctoPerf is an online load and performance testing service based on JMeter that reproduces complete user journeys through the application. It stimulates the full stack of your infrastructure, from your frontend to your databases. To efficiently push your whole infrastructure to its limits, it simulates realistic behaviors.
Limitations: 50 concurrent users, 10 tests/month, 20 minutes maximum shot duration
Web site: https://octoperf.com/
RedLine13
RedLine13 is focused on bringing (almost) free load testing to the Cloud. The provided service helps you setup and deploy load testing instances in your Amazon account. You have to pay for the load testing part of this on the spot instances – hence the (almost).
Limitations: you need to have your own Amazon instance… or pay for it.
Web site: https://www.redline13.com/
StormForger
With StormForger you can create repeatable Load Tests targeting your HTTP API and focus on building software. You can create test cases using our easy and understandable JavaScript DSL and run tests on scalable infrastructure in the cloud with a single click. Multiple reports allows analyzing performance bottlenecks, configuration and scalability issues.
Limitations: Unlimited number of tests. Limited load generator resources and test duration.
Web site: https://stormforger.com/
StresStimulus
StresStimulus is a load testing tool for performance testing complex websites, web API and mobile. It records test scenarios and then replays them to realistically emulate thousands of users while monitoring high load impact on the server infrastructure and key performance indicators. A powerful auto-correlation engine automatically generates test script that works without manual coding.
Limitations: limited features, 250 virtual user maximum, test duration up to one hour
Web site: http://www.stresstimulus.com/
WebLOAD
WebLOAD free solution is a desktop performance testing tool from Radview that perform website load testing and generate massive user load supporting many web technologies like HTTP/HTTPS (SSL,TLS), WebSocket, PUSH, AJAX, SOAP, HTML5 or WebDAV. WebLOAD generates your load scenario in JavaScript, letting you make any enhancements needed. The standard JavaScript language is enhanced with built-in load testing objects and methods offering HTTP functionality, load methods, DOM functionality and more. Quickly build tests, generate load (on premises or from the cloud), and analyze results using a rich set of reports designed to pinpoint performance problems.
Limitations: 50 virtual Users 20 Selenium Webdriver users Life time
Web site: https://www.radview.com/